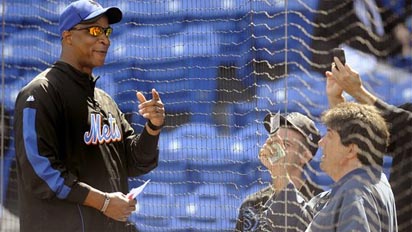 Port St Lucie, Florida
-- I remember the first spring training the Mets ever spent in Port St. Lucie back in 1988 and I remember the presence of Darryl Strawberry both on and off the field. In the early days of talk radio, Strawberry was the #1 topic--bigger than the Knicks and Ewing, bigger than the NFL, and yes bigger than the New York Yankees. The Mets were coming off a year in which they failed to defend their 1986 World Championship and Strawberry was about to embark on what many feel was his best season and one in which he should have won the league's MVP award.
But it was also the year Darryl started to grumble about his contract status and although the rough give and take between him and the Mets took a few more years to evolve, Straw began to think seriously about playing somewhere else in the future and even openly admitted returning to his hometown of Los Angeles might be in the offing.
In many ways, Straw has come full circle and has become the unofficial "team conduit" between the successes of the 80's and the present day Mets. "I have always been a Met and this organization will always be my home," says Strawberry, "and I know I played for a few other teams but I will always be a Met." In fact, Straw was crowing the other day how the 1986 Mets would have beaten last year's World Champion Yankees.
One of the many players he has spent time with is rightfielder Jeff Francoeur who in many ways sits in the very same spot Darryl sat way back in 1988. Frenchy had a lot of early success with 2 100 RBI seasons until, for whatever reason, Bobby Cox lost faith in him--so much so he was willing to trade him to a division rival. Part of the issue for Francoeur was he was playing in his hometown and fell victim to the demands that could present. "I needed a fresh start because my whole life I was exposed to only Atlanta and it is a great town but when I got here Jerry Manuel and Howard Johnson reassured me that the Mets wanted me and that made me feel very relaxed," said Francoeur.
And in a strange way, Darryl and Frenchy have shared that feeling as Straw quickly realized when he signed with the Dodgers playing in your hometown is not all it is cracked up to be. Ironically, New York was an easier place to play because despite all of the media scrutiny, you are not constantly getting pestered by the people that you grew up with to "share the wealth."
"Straw is great," says Francoeur,"because he has so much experience to share. Sure, we have talked about hitting approach and pitch selection but we have also talked about clubhouse communication, leadership and listening skills. And those are the lessons that I think will help me the most."
Darryl says that Francoeur is headed for a great season--25-30 homers and over 90 RBI--and thinks CitiField will not inhibit his power numbers because he is such a great fastball hitter. I have known Straw since 1984 and have seen his best and his worst. I have seen him carry a team on his back and I have seen him hibernate in a shell when things did not go his way. But in the last few years, I have seen a change in Darryl which I can only explain as a certainty of purpose. He knows his career could have been better and his Met team should have won more than one championship. But he also knows why that happened and he has decided to try to impart some wisdom to the current-day Mets.
And he has decided not to do it with a lot of fanfare but do it behind the scenes in a quiet yet purposeful way. Straw loves his new role with the team and when he is inducted into the Met Hall of Fame this August with Doc Gooden, Davey Johnson, and Frank Cashen, he will have finally returned home. His on the field heroics are well documented but he is enjoying his new role as Mets counselor as much as he enjoyed any one single moment in a Met uniform.