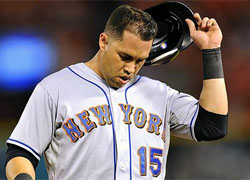 Steve Mitchell/US Presswire
Port St. Lucie, Florida
-- Carlos Beltran strolled into the Met training facility around 11:30 and talked to the media about an hour later. The Met centerfielder, who was embroiled in a he said, she said off-season battle with the front office about his knee surgery, said his focus is strictly on his rehab and he has no hard feelings towards the organization.
Clearly, Beltran had decided to take the "high road" and that was reinforced by his mere presence in Port St. Lucie as he has decided to rehab here with the team. But still you wonder if there are some scars that might still be there based on how contentious the story got in January. Even Beltran admitted, "It took me about a week to forget about everything and now I am focusing on what is important for me and that's being with the team and getting ready to be on the field as soon as possible."
Beltran also told me that he is very excited at the prospect of being in an outfield that will house Jason Bay to his left and Jeff Francoeur to his right and is anxious to get into "Phase 2" of his rehab which will slowly bridge him into "baseball activities" towards the end of spring training. He is right on schedule to begin those activities 12 weeks to the day after his surgery--sometime in late March.
So what do we make of all this? As many of you know, no beat reporter is closer to Carlos Beltran than I am and I will say that all of this back and forth about the surgery perturbed him greatly but above all, Beltran loves to play the game and cares about his Met legacy. To him, getting back on the field is the end that justifies the means.
Many experts point to this and that about Beltran but the bottom line is pound for pound he might be the best baseball player on the team. He has put up numbers, played hurt, and at times carried the team offensively. If the Mets are to rebound in 2010, they will need the 2007 and 2008 Beltran that performed at an All-Star level and if healthy, they will indeed get that. Lets remember in 2009 the Mets actually held it together and were within striking distance of the Phils but when Beltran got hurt in late June, the season went down the chute.
On this day, he took the first important step in his rehab--answering the questions about the muck of the off-season by telling everyone he is ready to move on. He did it in a lucid, believable tone and that will help everyone--himself, the team, his manager, and the front office--repair the wounds of a botched process. At this point, that is all you can ask from a player who is recovering from knee surgery.