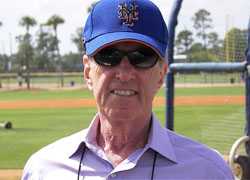 Port St Lucie, Florida
-- Mets owner Fred Wilpon, who labeled the off-season as torture, spent his morning answering questions from the beat reporters. He talked among other things how he expects his team to turn it around in 2010.
2009 was a year Fred Wilpon would like to forget as his team went through their worst season in the Omar Minaya era coupled with the backlash from the Madoff scandal--all in a year that the team was supposed to enjoy success in their new home-CitiField. Instead, it was a season filled with land mines making the off-season "torture" for the owner of New York's National League franchise.
Still, Wilpon feels energized by spring training because he senses a "new attitude" in this year's camp and in speaking to many of the players, he feels that are committed to turning it all around. However, he would not comment on the job security of both his manager and general manager who many feel will be on a short leash come April.
So what about the finances of the team? Wilpon said that the Mets are a strong franchise and he sees his family owning the team for many years to come reiterating his payroll is one of the richest in baseball (as of today it is actually 5th behind the Yanks, Red Sox, Phillies, and Cubs) and off-season baseball decisions were made by his baseball people. More specifically, he went on to say as a group those baseball people decided there was more of an upside to what the Mets already had here than what could have been here had they inked one of the free agent pitching options to a contract.
As far as the fans are concerned, Wilpon feels their pain and understands all they want is a winner vowing that the organization is committed to that. He also spoke glowingly about Johan Santana whom he feels is taking a bigger role in helping players this season. If the truth be told, Santana has been very visible in the mentoring of both Ollie Perez and Mike Pelfrey so the Met owner's observations seem right on target.
I have been around this team since 1984 and never quite ever understood the grief the Wilpons gets for their payroll levels. $120-130 Million dollars is more than enough to put a winning product on a baseball field and the Wilpons have always been committed to that level of economic responsibility. If you want to be critical of HOW they spent that $, that is a reasonable criticism but their level of restraint in a down free agent market that they showed this year, will benefit them in the long run. That benefit could show up as early as this year's trading deadline. And lets not forget they did rope in one of the top 3 free agents even in that down market.

Still, many people "in the know" contend the Mets are out of money as evidenced by the lack of off-season activity with the exception of Jason Bay. And I will say what I have been saying for the past 12 months. The Madoff scandal had little or no impact on the financial infrastructure of the New York Mets.

What I think happened this off-season is in a down market the Mets looked at their roster and said to themselves: We have one of the sport's best starting pitchers, the league's best closer, the league's best center fielder, and a left side of the infield that many organizations would like to possess so why not roll the dice on health because the 2010 off-season free agent crop will be fertile with some of those players actually being available at this year's trading deadline. It is not a strategy I expect everyone to agree with but at the least everyone should understand it.

And for those Met fans who yearn for new ownership, be very careful what you wish for. More importantly, ask yourselves if the fans in Florida and Atlanta, for instance, might want a man owning their team who consistently commits over $120 Million to his payroll every single year?