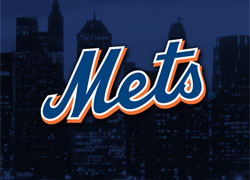 Flushing, New York--When the New York Mets entered the off-season it was painfully obvious their needs were a frontline starting pitcher(s), a big power bat, a catcher, and a set-up option for K-Rod in that order. So where did the Mets go wrong this off-season? 1050 ESPN's Met Beat Reporter Rich Coutinho breaks it down...
The first order of business should have been getting a reliable #2 starter to sit behind Johan Santana and I would be the first to admit that task was far from easy but their approach to solving the issue was misguided. Roy Halladay was quite honestly never an option because the Mets did not have a trade fit for the Jays while the talented pitcher had a short list of teams he would go to which did not include the tenants of CitiField. Once that became a painful reality, they should have immediately turned to John Lackey who wanted to decide more sooner than later this off-season.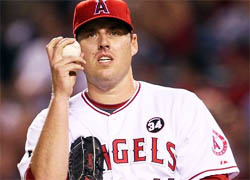 Stephen Dunn/Getty Images
The Mets did reach out to the Lackey camp but did not do it in the aggressive fashion they employed with pursuing other free agents in the past like Pedro and Beltran. Why? Lackey was the best option for the team's #1 need and the Mets dragged their feet. My sense is they wanted to stay away from a 5 year deal with a pitcher whom they thought might have physical issues down the road.
But my sense of Lackey is he is a bulldog--a tough minded hurler who gets to the goal line. I think he may not have the stuff Santana has but he has that same inner toughness and he is as prepared to pitch in big games as any pitcher in either league. That's the scouting report I get from ex-teammates like Frankie Rodriquez and people like Jason Bay and Mark Teixiera who have battled him in big games.
OK so the Mets dropped the ball there but decided they could not skate away this off-season without getting one of the Big Three free agents (Lackey, Holliday, and Bay) and so they acted quickly pursuing Bay and finally got him. He will help the Mets and the fans will love his approach to the game as well as his ability to be a reliable run producer. And they still had the chance to get the catcher they so desperately needed.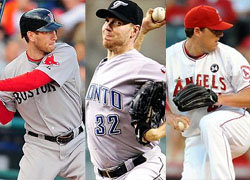 But something happened in the pursuit of Bengie Molina that is very hard to pinpoint. I talked to many of the Met pitchers in the off-season and to a man they wanted Molina because they felt in those tough moments late in the game they wanted a more reliable backstop. The veteran catcher felt to uproot his family he needed a little love from the Mets and I mean a little--in the form of either a 2 year deal or a 1 year deal with an easily attainable platform that would all but guarantee two years. Instead of giving him a little love, they dug in like a separated husband in search of a more favorable alimony payment and so they lost him.
I also think the botching of the Carlos Beltran surgery news contributed to Molina's decision as well although if they offered him a 2 year deal I think he'd be a Met today. And that brings me to next chapter of the off-season--why take on Beltran? He obviously needed the surgery, 2 doctors agreed on the diagnosis, yet the Mets wanted a third opinion when a renowned specialist made the recommendation. Knowing Beltran as I do, I think he feels hurt but quite honestly he will rehab like an animal and be ready as soon as possible--probably by May 15th.
The rest of the off-season, player after player seemed to turn their back on the Mets in wake of these events. But these players-Joel Pinhiero, Jason Marquis, and Randy Wolf were not difference makers and in Wolf's case, he got an obscene 3 year $30 million contract which is insane. So, the Mets operated under the assumption that counting on a rebound season from Pelfrey, Perez, or Maine was just as likely as a good season from this "B" level talent and in Pelfrey's case for instance, at far less of a financial commitment. I do think a rebound season for either one is not a reach but to expect it from all of them is a leap of faith that I am sure Met fans are not anxious to take.
So, when the team convenes in Port St Lucie they will be a better offensive team than last year replacing Ryan Church with Jeff Francoeur and replacing Carlos Delgado with Jason Bay. They are also expecting a healthy return for Jose Reyes, a bounce back year from David Wright, and eventually a healthy Carlos Beltran. I think, aside from Beltran, all of those will happen and I only make Beltran a question mark because of the severity of his surgery.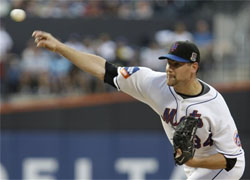 But the starting pitching is a huge question mark and one that has to be the biggest story of the spring with all eyes pointing to every move Mike Pelfrey and Oliver Perez make. In Perez's case, his focus will be on display and it will be interesting to see if has made any changes in both his preparation routine as well as his ability to handle in-game adversity--the latter being very hard to discern in no-pressure spring training tilts.
If for some reason these 2 pitchers, do not bounce back a lot of people, including the decision makers inside the organization, will hold Omar Minaya responsible for the course of action he took this off-season. Despite all the talk about Reyes and Wright, it might very well be that the 2 players that hold the Met season in their hands are Mike Pelfrey and Oliver Perez. And with it the future of both Jerry Manuel and Omar Minaya.