Is Fernando Martinez The Forgotten Met Prospect?
February 8, 2010, 4:27 PM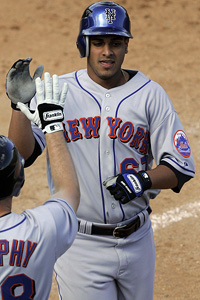 Once regarded as the Mets top prospect, outfielder Fernando Martinez was named the Caribbean Series MVP but the question remains where does he fit into Omar Minaya's plans after a season in which many experts believe he took a step backwards in his development. 1050's Met beat reporter Rich Coutinho explores the F-Mart question.
The warm sun exploded onto the Port St Lucie practice field as young Met prospects took turns hitting the ball and I could remember being so impressed with the sweet yet powerful swing of Fernando Martinez. And that was only 2 springs ago when the Met organization was beaming about the young prospect. In fact, many of them predicted he would be a regular corner outfielder on the major league level once they opened the gates of Citifield in 2009.
Just 24 months later, the Mets have seemingly turned everywhere else the fill their voids in the expansive CitiField outfield. They went outside the organization to get both Jason Bay and Jeff Francoeur and have talked about using both Angel Pagan and the newly acquired Gary Matthews Jr. in centerfield until Carlos Beltran returns from the injured list. So why the 180 degree turn? What is at work here?
First of all, he has not stayed on the field as injuries have short circuited his playing time limiting the development on the minor league level. Beyond that, he was force fed onto the major league roster last year and clearly showed he was not ready to hit major league pitching--specifically major league curve balls. But more surprising than that, was his defense or should I say lack of it. He looked lost in centerfield and made numerous base running blunders including not hustling on the base paths.
Still, you can see the raw talent every now and then which indicates the potential is there but his game may need fine-tuning and better coaching. When I see F-Mart, I see Bobby Abreu--a good hitter with a patient eye who is much more a gap hitter than a home run hitter. That would seem to be a good CitiField fit when you consider that Omar Minaya said that he wanted this team to be more athletic in 2010. But you get the sense that prospects like Josh Thole and Ike Davis have passed him on the organizational depth chart. That would be a big mistake if the Mets feel that way.
His development has been slower than the team would like but to assume that the development would never occur would be a huge blunder. The time must be put in with this player and every stone must be unturned to try to bring out the potential many experts in the sport would label as unlimited. And even if he does not ultimately fit into your plans, do not reveal that to trade partners by not even considering him as a replacement for the injured Beltran.
The Mets have not exactly being rolling out prospects in the bunches the past few years and even stars like David Wright and Jose Reyes, were on the balance sheet of the previous general manager. For that reason alone, Omar Minaya should not forget about Fernando Martinez. He just needs to be coached better and lets face it--coaching young players is also not a strength of this organization--at least since Rick Petersen left town.