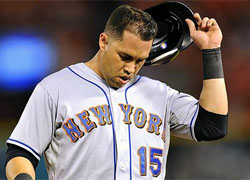 Steve Mitchell/US Presswire
Port St. Lucie, Florida
-- With Rod Barajas all but signed, sealed, and delivered and with Daniel Murphy the more than likely first basemen, centerfield remains the lone everyday position battle in camp. And the Pagan/Gary Matthews Jr. tug of war is one that might have far reaching implications for Jerry Manuel. 1050 ESPN's Met beat reporter Rich Coutinho tells us why.
With Carlos Beltran out until at least May 1, the Mets will need to put a capable replacement in centerfield and their decision of which man will be entrusted to that important defensive spot will be no easy decision. Angel Pagan certainly showed flashes last year but if the Mets were so sure about him, they would not have gone out and obtained Matthews who provides more experience but likely less offensive sizzle.
And offense will play a huge part in which way this battle goes for a number of reasons. First of all, without Beltran's bat in the order, the team will need the centerfielder to provide at least a little offense. But more importantly, that bat will likely be inserted in the leadoff spot so Jerry Manuel can execute his decision to bat Jose Reyes third in the order. There really is no other option for him unless you consider Luis Castillo a candidate whom I do not because he is simply not the base stealing threat he was earlier in his career.
So, this battle will have a boomerang effect on many of Jerry Manuel's plans to tweak his lineup card in the wake of the Carlos Beltran's injury. That makes me believe Pagan will be the guy unless he absolutely tanks it in spring training. This will also allow Jerry to have three switch hitters (Pagan, Castillo, Reyes) at the top of the order which would be an enticing proposition.
So where does this leave Gary Matthews Jr.? Likely the fourth outfielder heading into Opening Day and a 5th outfielder once Beltran returns. Too many outfielders you say that will need playing time? Let's not forget what we learned last year--you can never have too much depth on your bench.