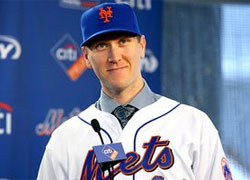 Port St. Lucie, Florida
-- Jason Bay arrived in Port St. Lucie today and made it very obvious that he will not only be a great addition on the field but off it as well as he engaged with the beat reporters in a lively, informative and sometimes humorous 15 minutes. Clearly, Bay was well prepared to handle all of the questions and did it with the expertise of a grizzled veteran.
There are some people who contend that the Boston media is in many ways tougher than the New York media and when you add in the fact that Bay replaced a Boston icon--Manny Ramirez--when he was traded there you can understand why he handled today's situation easily and comfortable. The new Met left fielder touched on a number of subjects including the expectations of Met fans.
"I don't know if it is just a fresh perspective but I think there is a lot of talent on this roster and I know last year things did not go well but there is no reason to believe things will not go a lot better this year," said Bay when asked about all the negativity surrounding the Mets.
He also had some strong words for columnist Peter Gammons who attributed a quote to Bay that he would rather play in Beirut than at CitiField. " The one thing that really bothered me was the Gammons comment," said the Met left fielder, "because I never spoke to him at all. If it had been portrayed as his opinion, fine but it was portrayed as he had some inside scoop--and I didn't think that was fair."
There were also some real humorous moments in the media session as Jeff Francoeur began to give Jason Bay grief on the U.S. Hockey team's defeat of Jason Bay's Canada team in the Olympics. But the real impressive part about Bay is he was very comfortable in conversing with the media and being honest about a plethora of tough topics such as the rumors coming out of Boston about his health.
But in reality we should have known Bay would handle everything so well. Earlier in the day when I asked former teammate Alex Cora about Bay he said, "Rich, you guys are going to love him--he plays hard and he is always accountable."
Imagine that--a high priced baseball player that understands his responsibilities.