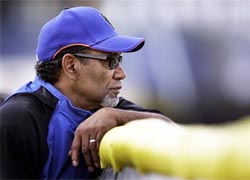 What would a day in Port St Lucie be without Mets Manager Jerry Manuel talking about tweaks to his proposed Opening Day Lineup? Hell bent on batting Jose Reyes third, it is now a question of whether David Wright or Jason Bay get the cleanup spot?

I must say this about Jerry Manuel's daily press conference--the sessions are never dull. In his mind, he is already penciling in Jose Reyes as the third hitter in the order which many people, including myself, have questioned ad nauseam. But very much intertwined in the equation is how the rest of the lineup will be constructed with Manuel pontificating that is will look something like this:
Pagan
Castillo
Reyes
Wright/Bay
Bay/Wright
Murphy
Francoeur
Barajas
Santana
It seems the only question the manager has is whether to put Wright behind Bay or Bay behind Wright but to me Reyes is the rub here. You have a player that is working hard to be healthy and now you added the burden of placing him in an unfamiliar spot in the order while potentially returning him to the leadoff spot once the injured Beltran returns.
Simply put, Jose Reyes is the MOST important offensive player on the team and batting him third takes away that initial threat that will allow the Mets to score in the first frame of a game strictly on the power of his legs. More importantly, it will prevent the team from setting the tone early in a game--an asset the Mets so desperately lacked in 2009.
Furthermore, your best "all around hitter" should bat third and that is clearly David Wright, who despite last year's numbers, provides that on a day in and day out basis. And once Beltran returns, you have the option of batting him 4th or 5th with Murphy 6th and Francoeur in a much better spot for him at #7. The lineup would not be susceptible to righties or lefties and would look something like this:
Reyes
Castillo
Wright
Beltran
Bay
Murphy
Francoeur
Barajas
The Pitcher
Notice in Positions 1-7 there are no successive hitters who bat from the same side of the plate because of the 3 switch hitters coupled with Murphy being sandwiched between Bay and Francoeur which insures the most advantageous sequence. Without Beltran, it gets a little tricky but Manuel needs to bite the bullet and go this way:
Reyes
Castillo
Wright
Bay
Murphy
Francoeur
Pagan
Barajas
The Pitcher
Wright and Bay are back to back but that's unavoidable and your 5-8 hitters provide enough lefty-righty diversity to counterbalance the 3-4 spots. It also allows you to keep Reyes focused on his greatest strength: jump starting the game and it is a manager's job to put their players in the best possible situation they can in order for that player to succeed--not to satisfy that manager's stubborn craving just to be proven right.
The best possible situation for Reyes and for the Mets is for him to bat lead off no matter what Jerry Manuel might believe. If he continues to insist on doing it his way, he may in the long run make it much tougher on himself should the team get out of the gates slowly in 2010.