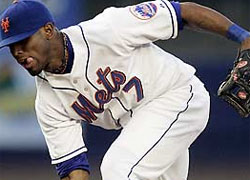 Port St Lucie, Florida--The FBI paid a visit to Port St Lucie this past week and it was not to escape the wintry weather--it was to question Jose Reyes about his involvement with Dr. Tony Galea whom the Mets shortstop used for a unique blood spinning treatment when he suffered from a torn hamstring tendon last year.

Galea, who is under investigation for drug violations, has treated numerous athletes including ex-Met Carlos Delgado and the embattled Tiger Woods.


"The FBI is talking to every player who went to that doctor and they told me everything with me was fine. I was cleared. They asked me if I was ever injected with HGH and I said no" said Reyes.






Still, this is a story that might have some legs especially when you consider that Tiger Woods could be involved in the investigation as well. "Now that I talked to them I am free," continued Reyes,"they just took my blood out and did the PRT treatment (platelet rich therapy) and I guess it did not work because I had to get the surgery."

The Mets confirmed that they were aware of the FBI inquiries.
And Met fans...heading down to PSL? Why stay in a
standard hotel room
when you can stay in a luxurious Golf Villa complete with a fully loaded kitchen,
swimming pool
, and jacuzzi...Click here for the special Rich Coutinho discount: