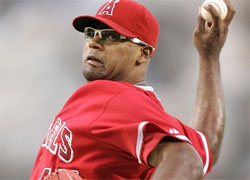 Port St. Lucie, Florida-- When Omar Minaya signed Kelvim Escobar to a one year $1.25 million contract in the off-season, the Met general manager envisioned that he would be the perfect set-up man for Francisco Rodriquez. According to Jerry Manuel, shoulder issues will likely force Escobar to the sidelines far too long for him to be counted on so the team must look at other options for that important 8th inning role.

It is interesting to note here that the Mets signed Escobar to his deal after just a 2 inning stint in winter ball and he has complained about shoulder issues from the day he arrived here in Port St. Lucie. "If he had been healthy we felt it would be a tremendous fit for us because we would have had that covered, but now with the injury we have to have someone else step in and handle that role," said Manuel during his daily briefing with the media.

Escobar, though disappointed, remains confident he can help the team. "Hopefully, my shoulder responds in 3 to 4 weeks as everyone is hoping so I can help this team get to the World Series --that's our goal," said the injury riddled Met righthander.

So, where does Jerry Manuel go from here? Clearly, Ryota Igarashi would seem to be the odds on favorite showing a real explosive fastball coupled with an improving splitter in his early bullpen sessions. But do not count out Fernando Nieve who might get a look if he ends up being the loser to Jonathan Niese in the 5th starter sweepstakes.

The problem here for the Mets is this 8th inning spot will help shape other roles in the pen as Jerry Manuel was counting on the combination of Pedro Feliciano and Sean Green to carve out the 7th inning but without a bona fide 8th inning candidate, their roles will be up in the air until he decides on K-Rod's set-up partner. Bobby Parnell could be a dark horse candidate as well who certainly has the stuff but showed last year he needs to fine tune his command before he is given greater responsibility from Manuel.

It is very early in spring training but this 8th inning issue has quickly become the biggest early season challenge for Jerry Manuel--bigger than his lineup tweaks, bigger than his CF battle, bigger than his starting rotation because in the long run, a bullpen is a powerful force in the success of any baseball team--a good one covers up weaknesses but a bad one makes every little blemish look like an eyesore.
Met fans--you coming to PSL to escape the snow? Do not stay in a drab
standard hotel
room--stay where I stay a beautiful Golf Villa at
Castle
Pines--just a stones throw from Tradition Field--The villas all have a huge bedroom, fully stocked kitchen,
dining room areas
, a backyard porch, washer and dryer, central air, and a swimming pool/jacuzzi area.  Clich Here for the special Rich Coutinho discount