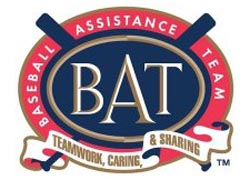 New York, New York-- It was a star studded guest list that could fill any room in America and beyond with fans who just wanted to take a picture or get an autograph but on this night it was all about major league players giving time and money for a very worthy cause, The 21st Annual BAT (Baseball Assistance Team) Dinner. And 1050's Met beat reporter Rich Coutinho was there.

You know I go to my share of these type of events but this one just felt different as you could feel the passion and commitment in the room from players both current and retired, MLB corporate executives, sponsors and members of the media for this most deserving charity.

The first thought you generally get about major league baseball players is that they make a boatload of money and enjoy lives that only few of us can dream of living. But it was not always this way as players in the 50's, 60's, and 70's did not reap the rewards that the players have today--at least not until MLBPA President Marvin Miller paved the road. And despite Miller's best efforts many of the players were left behind that played prior to the labor renaissance of the 1980's.

But the Baseball Assistance Team (BAT) is not just about major league players--it has helped minor league players and coaches, scouts, clubhouse attendants, trainers, and just about every conceivable person that belongs to the "baseball family." I remember the 1960's vividly and recall many players working in the off-season just to make ends meet which I realize is an impossible concept to grasp today. I remember going to a men's store with my dad surprised to see that Ed Kranepool was there to assist us in the purchase. Unbelievable but true.

The numbers that BAT has on its resume are staggering--since 1986 they have handed out over $19 million in grants to over 2,400 needy individuals who had no retirement money, could not afford health care, or were unable to keep up with the slippery slope of inflation. And when you talk to players like Orlando Cepeda, Andre Dawson, Jim Palmer, former Met manager Davey Johnson, or Red Sox pitcher Tim Wakefield, you get the feeling that have benefited far more from BAT than the people who have received assistance because it has allowed them to give back something to the game they love so much.

BAT needs you so it can continue to get the help to people that are in most need of it. The following link on MLB.com can guide you through the donation process: https://secure.mlb.com/mlb/official_info/community/bat.jsp

We will be running podcasts all week so you can learn more about BAT and at the same time start to warm you up for Pitchers and Catchers which is about 25 days away.