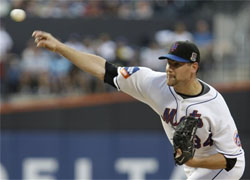 Port St. Lucie, Florida
-- Like most of the New York Mets in 2009, Mike Pelfrey experienced a year that he would like to forget. It forced the Met righthander to do a lot of soul searching this winter in order to insure that he rebounds from the worst year of his professional career. In order to do that, he needed to get leaner--shedding 20 pounds in the off-season and as a result, he has come into camp focused and determined to prove his critics wrong.
When you travel with a baseball team all year as I do, you get a chance to spend time with players away from the park and sometimes you get a glimpse of what is really going on inside their heads. It was late last year and we were in Denver with Pelfrey having another one of his uneven nights in which his command was nowhere near where it should be. We walked together from the park to the hotel but to be honest, I did all the listening and very little of the talking.
He was very upset about the game but even more upset about the season. He said to me, "This year was not supposed to be this way. We were supposed to be better and I have not held up my end of the bargain Rich. I can assure you I will do a lot of thinking this winter because I want to be a winner and with THIS team." Life is all about timing and I just think looking back I was in the right place at the right time to witness one of those A-HA moments that many professional athletes have but more importantly, Pelfrey took that level of disappointment into the off-season and worked hard at becoming better both physically and emotionally.
"I took some time to really decompress and then I thought about 2 things--getting leaner and keeping everything on the mound simple," says Pelfrey. The first part was easy--he immediately embarked on a rigorous off-season weight program that helped him shed about 20 pounds. But the emotional make over was a little more challenging. He talked to pitching coach Dan Warthen a lot about pitching philosophy but also decided he needed to trust his stuff--and more to the point his sinking fastball needed to be the pitch he relied on more often times than not. But in order to do that, he had to be more consistent with his location and so most of his off-season workouts involved location of that 95 MPH sinker.
"I think last year I was trying to get out of jams over thinking things when I should have relied on my stuff and I really believe that is the biggest hurdle I overcame in the off-season," says Pelfrey. He also thinks the talent level on the Mets staff is top-notch and Maine and Perez can also rebound nicely this season. "You look up and down our roster", says Pelfrey, "and we are as talented as anyone and so it is just a question of putting it all together. We are the same guys that everyone was predicting a World Championship for last season and I think its actually funny that people are now predicting doom and gloom."
If Pelfrey rebounds the way is predicting, he may get the last laugh on his critics and in the process push his career to the next level. It may also push the Mets into the playoff hunt.