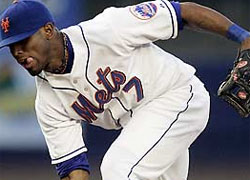 Port St. Lucie, Florida -- For Jose Reyes, the last few weeks have been torture because he was ordered not to do anything unless of course you think sitting on your couch and watching movies is something. So, when the doctors finally cleared him to resume baseball activities today, he felt like a kid in a candy store.

It did not matter that it was a simple day of running drills that included fielding grounders and about 10 minutes of light hitting. All that mattered to Reyes is that he was back on a baseball field playing the game he loves even though he looked spent when the 90 minute workout has concluded. "All I did for the past few weeks was watch movies and sit on the couch and I really missed playing. It was tough because I worked so hard in the off-season and then this other thing (thyroid) happened but now it is all behind me," said Reyes after his first day back in Port St. Lucie.

While talking to Reyes, I got the sense that he has really matured in the past 12 months and being away from the game can do that to a player. I particularly noticed it when he was asked if he would be ready by Opening Day. "I think we just have to wait and see," said Reyes,"because I need to be in there for the whole season and as important as Opening Day is, I have to do what is best for the team." On the surface, it just seems like a politically correct answer but for Reyes it is very revealing. The younger Reyes might have indicated that wild horses could not prevent him returning on Opening Day but experience has taught the Met shortstop to think more big picture.

Reyes also indicated that he will still be tested on a weekly basis to monitor his thyroid levels and that adjustments to his diet did the trick. "I have to eat a lot of chicken and rice now and seafood is out which is tough because I love seafood," said Reyes.

The short term plan for Reyes is to continue a daily work out regimen for the next few days and then possibly play in an exhibition game this Monday which would leave him with 5 or 6 games of pre-season action to see if Opening Day is a possibility. And if he is in Jerry Manuel's lineup, it appears it will be in his customary leadoff spot. The consensus in the Met locker room is that spot is where Reyes should have been all along anyway. Jeff Francoeur agrees, " I speak from experience when I tell you that the pressure Jose Reyes exerts on an opponent from the lead off position is enormous. If he got on base in that first inning, you had to just expect you would be down 1-0."

That is the single biggest thing the Mets offense lacked in 2009 once Reyes was forced to the sidelines. And today was a day in which the Mets inched one step closer to reclaiming it and with it, the swagger that the team is in desperate need of obtaining. So much has been written about Reyes being too demonstrative when the Mets were rolling but the point everyone missed when they criticized his passion, is the Mets were indeed rolling when he was dancing. Given everything that has happened to him in the last 12 months, I am sure the Mets can not wait for the newest dance step from Reyes because that will mean he is playing and producing.