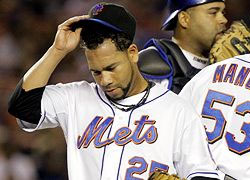 Saed Hindash/US Presswire
Port St. Lucie -- Being around Jerry Manuel for the past 2 seasons, has been a roller coaster ride. He consistently throws things out there in his post-game press conferences that make headlines but sometimes make little sense. It is never dull and always interesting but you wonder how the players in his clubhouse feel about his "public brainstorming" so to speak.

We have all heard it before--for 2 straight years he has pontificated about batting Jose Reyes third, he claimed last year Daniel Murphy was a better hitter versus southpaws than Ryan Church and he has talked about John Maine moving to the bullpen on 3 separate occasions. But this one is a little bit different because I do believe the manager is serious this time--and he better be.

Why? Pedro Feliciano has been a good soldier for some time and has answered the bell showing durability and reliability in a bullpen that is in dire need of those 2 qualities. He is filthy against left handed hitters but right handed hitters get a real good look at him. He is trying to perfect a cutter that can help disarm tough hitters from that side of the plate but that pitch is very much a work in progress. Aside from all that, Feliciano has been too good a Met to just be paying him lip service here and I certainly hope that is not what Jerry Manuel is doing.

But there is a bigger issue here and that is the valuable right arm of Jenrry Mejia who should actually be sent to the minors to further develop that arm for a future in the starting rotation. I do understand that he has shown the ability to get hitters out as a reliever but unless he is going to be used as an 8th inning set-up man, it is pointless to put him on the Opening Day roster. Your crown jewel should never--I repeat never--interrupt his development to be a middle reliever and it seems that is where he is heading with the youngster. That would be as silly as putting Ike Davis on the bench getting 6 at bats a week when he should be getting 20-25 at bats.

So, this brings us back to the issue of Feliciano. Let's assume for the case of argument, that Pedro gets the job done but the Mets are without a left handed specialist which is essential in a division that houses Ryan Howard, Chase Utley, Raul Ibanez, Brian McCann, Nate McClouth, and Adam Dunn. It will leave a gaping hole in a bullpen that will be asked to get left handed hitters out on a regular basis as early as the 6th or 7th inning.

That's the biggest reason this move would make no sense--you are plugging up one hole(assuming Feliciano can be a "crossover guy" as Jerry likes to put it) by leaving a gaping hole in another place in the bullpen. My other issue is why experiment with this in the final days of spring training? It reminds me of the scene in Raiders of the Lost Ark when Harrison Ford says, "I am making this up as I go along."

That lack of vision may make a entertaining movie but does not really work in the real world of baseball when you are a manager looking to keep your job. Then again, this could be Manuel's way of giving the beat reporters something to chew on during a slow news day. We have all seen that plate-spinning act before.