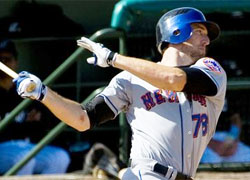 Port St.Lucie, Florida-- Ike Davis could not have shown much more at the plate this spring hitting .480 with 3 home runs while Daniel Murphy and Mike Jacobs have not exactly been ripping the cover off the ball. Yet with close to 2 weeks left in spring training, the Mets re-assigned Davis this morning for one simple reason--it was the plan all along.

They invited Davis to spring training so he could get a taste of major league pitching and get a positive vibe going into his minor league season. And if he continues his torrid pace at the plate calling him up during the season is a distinct possibility especially if Daniel Murphy struggles or if injuries pile up like they did last year.

The question remains why pull the plug on Davis now--why not wait a week or so? The answer to that question is two-fold. First of all, why dangle a possibility of making the team to your prized prospect running the risk he may take that disappointment with him at the start of his season? And secondly, it has become increasingly difficult to get Murphy and Jacobs at-bats with Davis in the mix. If you have decided on Murphy, you can not get him the necessary plate appearances if you are splitting time 3 ways in the final 10 days of spring training.

The bottom line here is Ike Davis will be playing first base at CitiField in the near future - possibly as soon as this summer. But the Mets have learned a painful lesson to what happens to prospects who are rushed to the show. You wonder how much that stunted the development of Fernando Martinez and do not think for a minute the Mets are not keenly aware of that fact.

The prevailing notion I get from the Met braintrust about Davis is that they want to be sure about him being ready for the majors when he is called up for the first time. They know that they run the risk of leaving him in AAA a bit longer than he may need to be there. But that's a risk the Mets are willing to take despite the fact that Omar Minaya and Jerry Manuel have been put on a short leash.