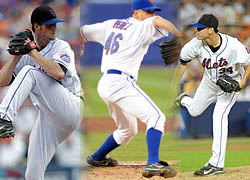 Port St. Lucie, Florida
--The promo the Mets keep running on TV these days says "We believe in comebacks." More properly, it should read "We better get comebacks." For both Jerry Manuel and Omar Minaya, the best way to begin the journey on the comeback trail will be in their starting rotation. After the manager pencils in the name of Johan Santana on the opening day lineup card, there will be a lot of hoping and praying in the following days.
Hoping and praying because Omar Minaya put his neck on the line and with it Jerry Manuel's neck as well when he decided not to go after "B" level pitching talent in the off-season once John Lackey headed to Fenway. The biggest puzzle of the three has always been Oliver Perez and that will be Dan Warthen's biggest challenge. His stuff can be intoxicating but his inconsistency can drive you to the liquor cabinet and that is the frustrating thing about him.
Ryan Howard, the slugging first basemen for the Phils put it best when he said,"Perez is filthy and I do not know why he does not have more success but I know this--they aren't too many other lefties in this league that are tougher on me than him." But its not just the Phillies--he is 7-4 lifetime versus divisional rival Atlanta and his numbers versus the World Champion Yankees are 5-1 with a 2.61 ERA. And then you look at his 3-5 record with a 7.14 ERA against the Washington Nationals and you understand the paradox that is Oliver Perez.
"I know focus and inconsistency has followed me throughout my career," says Perez,"but I want to change all that this year and it starts down here in Florida." What we have seen in Florida is a mixed bag which has been more good than bad and I must say he has worked much harder in his workouts than I have ever seen him work. But we really are not going to know about Oliver Perez until he has that first regular season moment where he is melting down and needs a pitch to stop the bleeding. That will be the ultimate litmus test for him.
Mike Pelfrey's case is even more complicated than Perez because he had a break out season in 2008 and seemed ready to make that next step in 2009 but instead had an awful season. "I did a lot of soul searching this winter and talked to a lot of people about where I am headed. Because of those conversations, I physically trimmed down losing 20 pounds but I also had to get a mental makeover so to speak,"says Pelfrey.
That makeover has been very obvious in Port St. Lucie as he has looked very calm on the mound even in the most trying of circumstances. His body language is very different as he appears less fidgety and has much better rhythm in his delivery to the plate. And that is key for a sinker ball pitcher who relies on his defense to make plays. He also seems less reticent to rely solely on his sinking fastball as a splitter and a breaking ball have been added to his arsenal of pitches--something Nationals third basemen Ryan Zimmerman noticed when he said, "I think he threw me a cutter and I wasn't expecting that as I had to adjust my hands and by the time I did that I was in no man's land."
And then there is John Maine who quite frankly has not been as healthy as he is right now in close to 2 years. To me, Maine has always exhibited a toughness that I like--he is who he is and he throws as long as he can as hard as he can. When healthy, he is a pretty proven commodity as evidenced by his work in the 2006 playoffs which unbeknownst to me, many experts just file away. I distinctly remember him pitching well versus Dodgers in Game 1 of the NLDS after Orlando Hernandez got hurt the day before the series began.
And in the 2006 NLCS he was the pitcher on the bump in Game 6 with the Mets facing elimination who went out there and went toe to toe with Cards ace Cris Carpenter helping the Mets to force a Game 7. That told me all I needed to know about John Maine--when he is healthy, he is effective. And he proved it the next year when in the last weekend of the season with the Mets at the brink of elimination, he went out and allowed the Mets to live for another day.
To me, it is always a question of health for him and Jerry Manuel has to be very careful not to overwork him but if the Met manager handles him right, Maine can have a big season.
Three pitchers and if 2 rebound the Mets could pose a serious challenge to the Phillies in the NL East. Because I do think a lot of the other Met questions will be answered in a positive way. I think David Wright, Jeff Francoeur, and Jason Bay will provide a lot of thump and once Carlos Beltran and Jose Reyes return, the offense will be one of the 3 best in the league. And the defense will be better as well as those 2 injured are as good as it gets at their positions defensively.
And so it comes down to these three guys and I must say they appear motivated, a little angry at their detractors, and ready to prove the critics wrong. And if the Mets really believe in comebacks, it all starts with these 3 who can make the 2010 summer in CitiField rock and make Met fans quickly forget the summer of 2009.
---