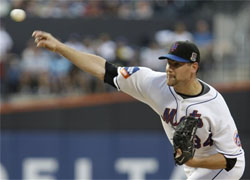 Port St. Lucie, Florida--
After a horrible 2009 season, Mike Pelfrey spent most of the winter doing 2 things--shedding 20 pounds in hopes of having more endurance in games and spending countless hours of soul searching in hopes he can rebound from the worst year of his professional career.
"I talked to a bunch of people and I decided it was time for a mental makeover from the standpoint of not letting too many things inside my head aside from executing pitches. Too many times last year, my focus was not where it should have been and that's part of the maturing process," says Pelfrey. Part of that development included having courage to throw secondary pitches which he has done liberally here in spring training. Now, the results have been less than desirable but it is important for him to fine tune those pitches in game situations.
" If I can not try these pitches in a spring training game then I will never use them when it counts", comments Pelfrey, "and I see my splitter and my cutter getting better each time out. And lets face it that is what spring training is for." Pelfrey also mentioned his 2007 Spring Training was his best ever and all he did that year was lose his first 7 decisions once the season started.
The big Met righthander makes a solid point here because spring training stats should be taken with a huge grain of salt and in previous years, he may have hung his hat on a good spring. Still, after his 2009 season, Met fans are putting him under the microscope this spring and he has been mediocre at best. But that too is part of his mental transformation as the old Pelfrey might have let that bother him and it would have affected the way he approached his craft.
"I read the papers and hear the talk on the airwaves and I know people wanted us to be replaced but I have to laugh because this is the same staff that most people picked to win it all and it is just one year later and more importantly, Oliver and Maine are healthy. So I expect us all to rebound,"says Pelfrey. Omar Minaya is certainly hoping that will be the case because he decided to go with his 3 incumbent hurlers rather than overpaying for "B level pitching" like Joel Pinhiero or Randy Wolf.
One major league scout when asked about which of the three had the best chance to rebound did not hesitate when he said, "Pelfrey because he not only has good stuff but he has the ability to pitch deep in games which could help their tenuous situation with a bridge to Francisco Rodriguez." Late in 2008, Met manager Jerry Manuel concurred with that notion when he said,"Pelfrey is a guy who can pitch complete games because of his ability to get out of innings with a double play and so I see him as a 125 pitch a game guy rather than most of today's hurlers who tap out at 110 pitches."
That would be a welcome sight for the Mets since a return to the Mike Pelfrey of 2008 could be a clear signal that the 2010 summer will be much different than the inaugural 2009 CitiField season. And nobody will remember Pelfrey's inconsistent numbers in spring training or his 7 home run allowed in just a tad over 10 innings pitched down here in Florida. It might also provide Jerry Manuel with some much needed job security.