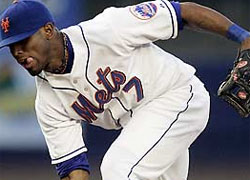 Port St Lucie, Florida -- The Mets have come to expect the worst when they get medical updates but when Omar Minaya got the call this morning that Jose Reyes can return to baseball activities it brought a smile to the face of the embattled Met general manager.

The thyroid levels have returned to normal for the Met shortstop and so Jose Reyes can now continue preparing for the 2010 season. But can he squeeze all of his work into 10 days in order to be ready for Opening Day? "I do not want to rule out Opening Day but we have to just wait and see. The good news is Jose came into camp in outstanding physical shape and we will see when he gets here tomorrow on how to proceed," said Minaya.

Jerry Manuel had stated when Reyes got shut down, that he would need to see him in about 10 spring training games in order to be confident he could be in the lineup on Opening Day. After today, the Mets have 11 spring training games on the schedule and Manuel would be hard pressed to be able to reach that magic number of 10.

There is more to consider here because Reyes is coming off surgery and although he rehabbed at a fever pitch in the off-season, you might want to ramp him up slowly since he has been inactive for a couple of weeks. The pressure on the Mets will be enormous to get one of their injured stars back on the field on Opening Day as a symbol to their fans but they must weigh that with what is best long-term.

Omar Minaya must give careful consideration to what is at stake here. Opening Day is one game out of a 162 game schedule and it would not be prudent to rush Reyes through the next 10 days. I am sure the Met shortstop will be heavily campaigning to be at his customary position on April 5th but he is too valuable a commodity to rush him for the sake of selling a few extra tickets.

How valuable is Reyes? Well, when news surfaced about his return to baseball activities, Angel Pagan said, "Really that is great news for us and bad news for the rest of the NL East." That illustrates how important Reyes is to the success of the 2010 season. Both Omar Minaya and Jerry Manuel must be cognizant of that fact when deciding his Opening Day fate.