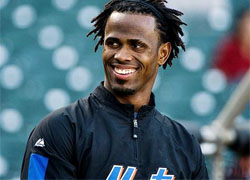 Port St. Lucie, Florida-- It was just a intrasquad game, but for Mets shortstop Jose Reyes, it was much more than that. It was a return to the field for the first since the nightmare season of 2009 that ended in off-season surgery. And as the Mets effervescent superstar circled around the bases with a 2 run triple on his first pitch, he may have finally put 2009 in his rear view mirror.

It was a typical Jose Reyes triple--a screaming line drive into the outfield with a quick turn around first base and then he put it into overdrive sneaking a peek over his shoulder without ever slowing down cruising into third base with a stand up triple punctuated by a wide grin when his feet were finally anchored on the base.

"I do not know how to explain this feeling," said Reyes, "because it was my first time on the field since May and to hit a big triple on the first pitch is great. I could not ask for anything more." Reyes also talked to me about the long road back for him and how much he missed being on the field. But even more important than that, the team missed his infectious spirit--a feeling that embodies what Reyes is all about.

Jeff Francoeur concurs with that notion saying, "For Jose, he needs to be Jose because he not only lifts his own game but others as well and I can tell you from sitting in the other dugout while I was in Atlanta, it has a profound impact. I am just glad I am in HIS dugout now."

For Jerry Manuel today was a painful reminder of what the Mets missed without Reyes in the lineup for the final 4 months of the season last year."He is a difference maker no question about it and he is a big presence that we missed in 2009. When he is right, he can do some special things," said the Met manager.

One of those special things might be batting third in Manuel's version of the Met Opening Day lineup card and Reyes will be placed in that spot every day, at least in the early going here in Florida. If the truth be told, he would rather bat leadoff but to him that's talk for another time and another day because on the first day of March Jose Reyes took a look into his immediate future and he liked what he saw.