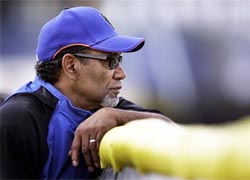 Port St. Lucie, Florida
--Bullpens in today's major league baseball are the single biggest common denominator for playoff bound teams. The reason for that is whatever your particular weakness is--thin starting pitching, inability to score tack on runs, or shoddy defense--good relief pitching can save your season. Conversely, a poor bullpen can take every little blemish and make it an eyesore.
So, how will the 2010 Met bullpen stack up? It is a very important question to answer because beyond Johan Santana the Mets will have a quartet of pitchers who are not exactly innings eaters. As a consequence, Jerry Manuel will need to lean heavily on his bullpen which may leave a lot of Met fans uneasy. It may be particularly troubling considering how much the manager likes to mix and match in the middle innings of a game.
The first order of business would be to anoint an 8th inning set-up man who would precede the entrance of Francisco Rodriquez in a tight game but Plan A went awry when Kelvim Escobar showed up to spring training unable to pitch. In fact, he still has not picked up a ball yet here in Port St. Lucie. Plan B was Ryota Igarashi who has shown some flashes but has not really set himself apart from the rest of the competition. Bobby Parnell has been better but has still shown an inability to get lefthanded hitters out while Sean Green and Pedro Feliciano are also viewed as "non crossover guys" by Manuel.
Kiko Calero is an interesting prospect for the role especially since his numbers were very impressive last year giving up only 36 hits in 60 innings of work. That would appear to be the best resume of any of the above mentioned pitchers and he would be the leading candidate if the team felt he could be durable enough to handle the role.
And of course, there is the case of Jenrry Mejia who has dazzled the Mets here in Florida and could fit into that role. However, Jerry Manuel has indicated that if Mejia makes the team, he will be gradually weaned into the role. So, you certainly get the impression that Jerry Manuel is planning to go with an "set up man by committee" philosophy which is a slippery slope because roles will have little clarity in the Met bullpen.
With the Met manager on a short leash early in the season, how the committee performs could very well have a huge impact on his long-term job security. It will be an interesting dynamic to watch in the initial weeks of the season.