Take an  abandoned ocean liner, add some amazing graffiti artists and what do you have? "It's got the potential to be the biggest open-air art project in the world" says Paul Williams, Duke of Lancaster manager.
Three monkeys dressed in suits crouch on bulging sacks of money, striking the symbolic pose of "hear no evil, see no evil, speak no evil."At more than 10-meters tall, the imposing chimps are the size of a three-storey building, dwarfing onlookers gazing up at their grim, spray-painted faces.
The menacing monkeys are joined on all sides by similarly fantastical and macabre creatures -- from skeleton divers to slobbering pigs -- and you get the feeling that out here, in the desolate British marshlands, no one would hear you scream were they to come alive.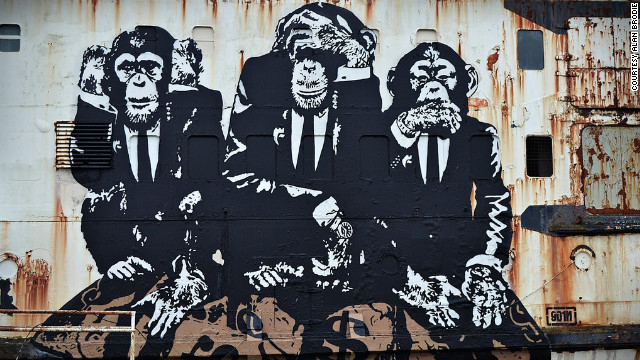 The 'Council of Monkeys'
Welcome to the Duke of Lancaster. A hulking, rusting, abandoned ship on the Dee Estuary in north Wales, which has become a canvas for some of the most renowned graffiti artists from across Europe.
At a whopping 137-meters long, seven storeys tall, and weighing 4,500-tons, the former cruise liner is an awe-inspiring sight in the deserted countryside.
It was this remarkable setting which prompted graffiti collective DuDug -- a word play on the Welsh for "black duke" -- to approach the ship's owners with the innovative idea of turning the abandoned vessel into a thriving arts destination.
With the owners' approval, artists from across Europe began spray painting the decrepit ship, using cherry pickers -- a type of hydraulic aerial work platform -- to reach its towering walls.
They are now campaigning to have the site reopened to the public as the centerpiece of an arts festival.
"When the pieces first started appearing, we had some people say 'that's no way to treat the ship.'" Williams said.
"But there's no doubt that what they're doing is art -- the key definition between art and graffiti is graffiti is done illegally. This, however, is done with the owner's knowledge and accommodation.
"And if it's the catalyst for regeneration, it's got to be a good thing," added Williams.