Atlasobscura has reached out to their readers to find the best street art spots in the world. And there are many!
For me there will never, ever be one as great as 5Pointz and I still mourn its destruction. But I have found some wonderful spots in Lisbon, Rome, London and all around NYC. I have tens of thousands of street art photos from 2003 to the present.
Currently my favorite spots (and these spots may suddenly change to nothing....) is walking over the Manhattan Bridge, walking over the Williamsburg Bridge, East Houston Street, Welling Court and parts of the Lower East Side, all in NYC.
Check out the ones below and click the link to add yours.
With the general exception of vandalizing historic landmarks or natural spaces, graffiti is pretty awesome, and these days it's everywhere. For better and worse (RIP, The Days When Graffiti Was For Outlaws), street art has become a much more accepted part of just about every urban landscape, adding color and cultural texture to many otherwise flat, oppressive spaces. Here in New York, we're a bit spoiled, with some gorgeous new wall of original graffiti popping up every couple of blocks. Whether they're monumental works of unauthorized art, or more organized efforts like the Welling Court Mural Project in Queens, New York's street art is its own attraction.
But down alleys and backstreets all over the world, there are even more incredible street art destinations just waiting to be discovered. Now we want to hear out about the greatest street art spots that you've ever seen!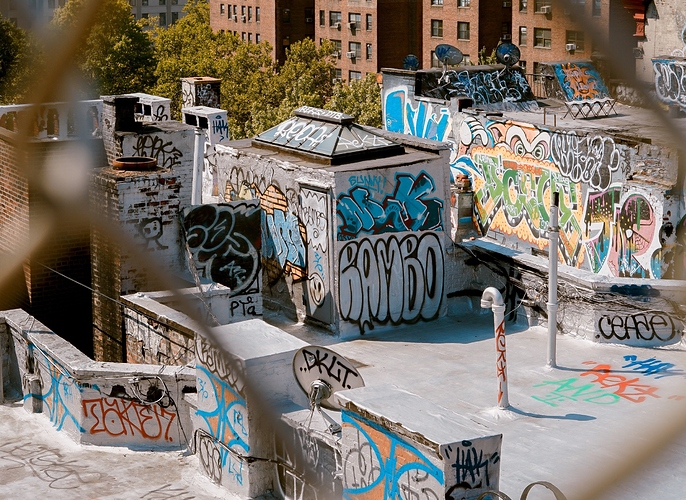 (Image: Toa Heftiba/Public Domain)
In the comments below, tell us about your favorite, eye-popping places to see street art around the world, how you discovered them, and what you love about them. And if you have any great original images of your graffiti finds, drop them in there as well! Your submission might be included an upcoming roundup article on Atlas Obscura. Street art might not be as taboo as it once was, but its fugitive beauty is still alive.
Back when I was doing my bachelor's degree we had a portion of one of my classes dedicated to graffiti. Since then, I look back at all the graffiti that caught my attention and how it has changed through the years. Seeing the many walls out there who had their graffiti changed through the years, how one overtakes the other in a seemingly endless loop (unless the structure is demolished or destroyed). If you think about it, there's history hidden on every layer that could go back several decades. If only graffiti could be peeled off and preserved, at least we can take pictures.
Even in campus we had graffiti regarding the issues at the time, such as lack of enrollment space, increases in credit costs, political debates, etc. All of that is pretty much gone today thanks to new paint jobs.